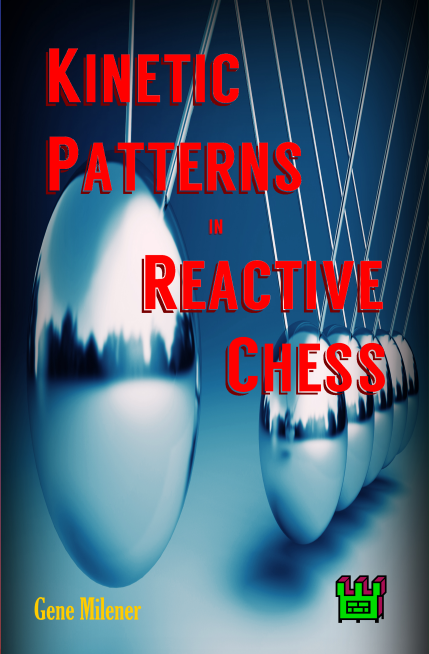 KPiRC, July 2018
What are kinetics in chess?
Why are reactive moves superior to proactive?
What are the 56 patterns that constantly repeat among chess moves?

How do kinetic tactics differ from shot combination tactics?
Are strong calculation skills even possible without strong kinetic skills?
What is asequential calculation, and what does it offer you?

What do rigorous tests firmly say about de la Maza's claim that slightly deeper calculation is more valuable than advanced strategic skills?
What of Hertan's advice to use the forcing moves algorithm routinely?
What of the psychology experiments that advise you to memorize thousands of positional chunks?

What is the kinetic method for memorizing a whole game?
https://www.Amazon.com for Kindle and paperback.
ISBN-10: 0977452115
ISBN-13: 978-0977452118
---
TABLE of CONTENTS

Introduction: What is this Book About?

PART A:  DOGMA, PARADOX, MYTH, AND ILLUSION

 1 / A.1  Philosophical Landscape   +14
 2 / A.2  Analysis Stuck in Static   +8
 3 / A.3  Traditional Shot Puzzles Reject Kinetics   +14
 4 / A.4  Calculation Inflation   +14
 5 / A.5  The Blunder Continuum   +18

PART B:  KINETIC ATOMICS

 6 / B.1  Concepts of Kinetic Chess: KAC and KAR   +10
 7 / B.2  Timbals Cataloging for KAC   +18
 8 / B.3  Timbals /S Cataloging   +10
 9 / B.4  Timbals KAC Exercises   +6
10 / B.5  Concept of Reactive Chess for KAR   +12
11 / B.6  BCM: Best Consecutive Move   +12
12 / B.7  BCM and Chess Style   +7
13 / B.8  Proactive is Illusion   +13
14 / B.9  Kinetic Views of the Initiative   +17

PART C:  IMPLICATIONS OF KINETICS

15 / C.1  Don't Just Tell Me Where Waldo Is   +10
16 / C.2  Human Factors in Kinetic Atomics   +4
17 / C.3  Kinetic Skills Must Precede Calculation Skills   +11
18 / C.4  Asequential Calculation: All KAR, then All KAC   +7
19 / C.5  Can You Evaluate After Calculation?   +8
20 / C.6  KAP: Kinetic Atomic Patterns   +17
21 / C.7  Can Biased Data Justify Unbiased Eyes?   +10
22 / C.8  Forcing as Observed in the Wild   +11
23 / C.9  Kinetic Shot Puzzles   +7
24 / C.10 Underwhelmed by Overlearning   +35

25 / D.1  GRAND SUMMARY OF KPiRC   +11

PART E:  SIDE TRIPS ALONG THE JOURNEY

26 / E.1  Draw Problem   +16
27 / E.2  MWCC: One More White   +13
28 / E.3  Font: Chess Handy Symmato 3D   +19
29 / E.4  Chess960-FRC Epilogue   +16
30 / E.5  XSAN: Motivations   +10
31 / E.6  XSAN: Syntax   +10
32 / E.7  XSAN: Discussion   +9
33 / E.8  Glossary of KPiRC   +5

Cover:  Covers of KPiRC Explained

(End of ToC.)

428 pages